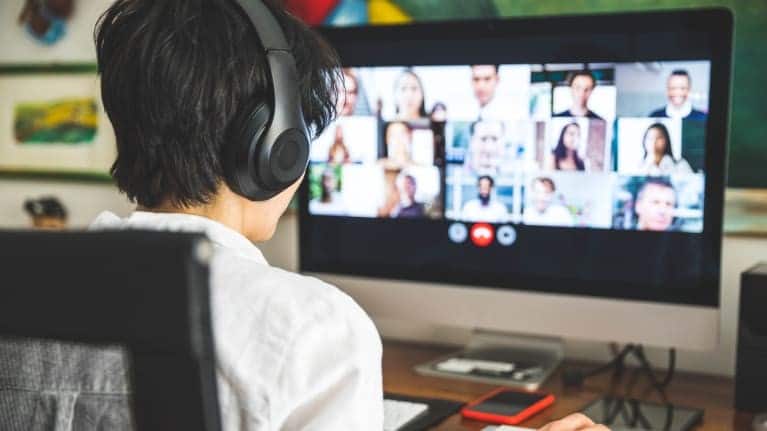 By Katie Navarra April 27, 2020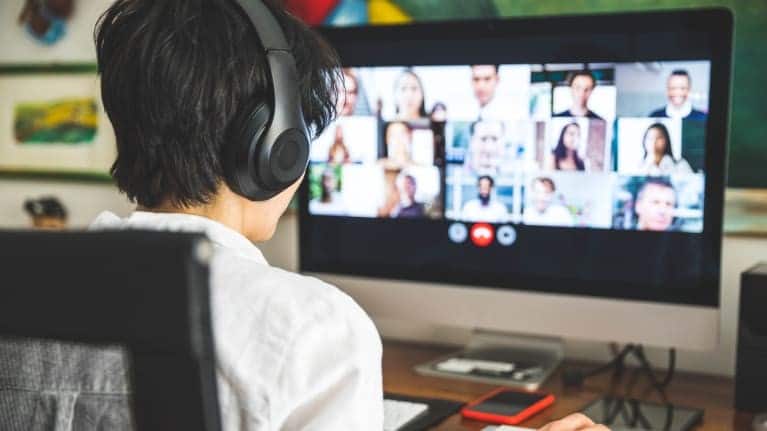 Many workers participated in virtual meetings before the coronavirus pandemic, but now online meetings are as routine as the daily commute once was.
Daily use of Webex meetings has jumped over 500 percent at animal medicine manufacturer Zoetis, said Roxanne Lagano, an executive vice president and chief HR officer at the New Jersey-based company. The sudden shift has left staff wondering how to dress, what makes the best background for virtual meetings and how to overcome meeting fatigue.
"It's important to be patient and understanding with each other," said Emily Aponte, the senior human resources director at Hearst Magazines. "This is a weird time, and we will all get through it." Here's a few tips to help your staff navigate the new normal
Set Expectations for Employees' Appearances
A Florida judge called out attorneys for being underdressed during virtual hearings. One showed up shirtless; another in bed, under the covers. With the instantaneous shift from office to virtual workplaces, employees may ask what is appropriate.
"We have not provided much guidance," said Ben Madden, SHRM-CP, vice president of human capital at The Ambit Group, a consultant firm in Virginia. "We have typically had a business attire policy with customers and business casual at our headquarters, but given that most organizations have gone to work from home, we haven't pushed an attire policy."
Aponte has observed staff calling in dressed in a range of clothing styles from sweatshirts to sweaters and blouses.
"I think most companies are not holding people to a dress code as if they are coming into an office while working from home," she said. "If you have virtual client meetings with people from outside your company, I recommend going with something more professional at least from the waist up."
Check Out What's in Your Background
Not everyone has a home office, so co-workers are likely to see various parts of others' living rooms, bedrooms and kitchens. It would be best to avoid high-traffic areas frequented by family members.
"We have to recognize that people are in quarantine and shelter in place and that there will be interruptions," Lagano said. "We can't worry about it and have to understand the unexpected may happen."
Madden has seen staff take meetings in nearly every room of the house, from living rooms to kitchens and closets. The Ambit Group uses Zoom and allows staff to use the virtual background feature, which includes such options as a beach, outer space or a meadow. Users can even upload a photo of their own.
Lighting is a bigger challenge than location. Sitting in front of a window with natural light may seem like a good option, but Lagano cautioned that the backlight floods the computer camera making it difficult to see one another. Try not to sit in shadows, either. Facing a window or positioning a lamp near your laptop might help.
Fight Fatigue
In-person meetings offered a reprieve from hours of screen time. Now it's the opposite. Madden favors time boxing, a theory from the agile methodology to break up the day. Set a specific period of time to work toward a goal. Stop and evaluate your work at the end of the time limit; don't push on to finish the task. This creates a natural break for Madden and his staff to pause a meeting, take a walk, or just get up and move around.
Aponte has scheduled a daily one-hour task on the staff's team calendar. It's titled "get out of the house now." Not every employee is following the recommendation, but it's a good reminder to take breaks from the phone and computer.
"We are also doing wine/wind down Wednesdays where we have themes and just connect with each other and talk about shows and life and try to just be present," she said. "We're also encouraging people to take time off, use vacation days, sick time. Even if a vacation day doesn't mean going anywhere, taking a break from work is important for mental well-being."
Christina Wilson-Thomas works for the Wall Street Trust Company and praises her company's efforts for keeping staff connected.
"We do a question of the week that is light and fun," she said. "Once it was each person's favorite song. Then we created a group Spotify channel with all the songs. Next, we are sharing favorite quotes."
Companies looking for something unique can spice up meetings with cameo appearances by goats and llamas offered by "Goat 2 Meeting," which also offers virtual farm tours.
Look for the Positives
Lagano believes that the sudden switch to virtual working environments has leveled the playing field for all staff. Before everyone worked from home, she would invite some team members to join her in a meeting room while they held a video meeting with others around the globe. But not everyone got the same experience.
"At least for me, I'm guilty of having a meeting, ending a Webex and thinking 'Oh, there's one other thing we should have talked about.' The people who were on the Webex don't have the same level of information and interaction," she said. "In this environment everyone is equally present, equally engaged and has access to equal information."
The new norm has helped her feel closer to people who were already remote.
"There is a natural tendency to gravitate to those you are physically connected with. With everyone being remote, everyone has equal visibility and an equal level of interaction," she said. "It's helped so much, and I think this will be significant learning for us as we move forward."
Katie Navarra is a freelance writer based in New York state.
https://www.shrm.org/ResourcesAndTools/hr-topics/employee-relations/Pages/Coronavirus-Guidelines-to-Set-for-Video-Meetings.aspx?linktext=Guidelines-to-Set-for-Video