"Mental illnesses are medical conditions that disrupt a person's thinking, feeling, mood, ability to relate to others and daily functioning. Just as diabetes is a disorder of the pancreas, mental illnesses are medical conditions that often result in a diminished capacity for coping with the ordinary demands of life."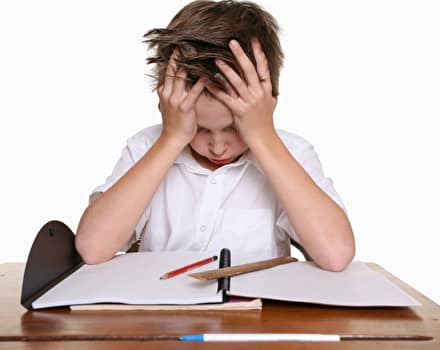 Each school year students journey is like climbing stairs called success.  To many, each step is an exciting and pleasant experience.  But to some who are dealing with emotional disturbances, every step they take tells a different story.  And no matter how they do reaching the top of the ladder is a challenge.
Under IDEA, the disability "emotional disturbance" is the 4th largest disability category. One in five children has a diagnosable, mental, emotional, or behavioral disorder. Children and youth identified as having an emotional disturbance represent 8.1% of all students ages 6-21 being served under IDEA (U.S. Department of Education, 2002). An emotional disturbance is more common in boys than in girls.
The federal term for "Emotional Disturbance" (ED) according to IDEA, is a condition exhibiting one or more of the following characteristics over a long period of time and to a marked degree that adversely affects a child's educational performance:
An inability to learn that cannot be explained by intellectual, sensory, or health factors.
An inability to build or maintain satisfactory interpersonal relationships with peers and teachers.
Inappropriate types of behavior or feelings under normal circumstances.
A general pervasive mood of unhappiness or depression.
A tendency to develop physical symptoms or fears associated with personal or school problems.
Children who are diagnosed with "schizophrenia" also fall under this term. This does not apply to children who are socially maladjusted unless it is determined that they have an emotional disturbance.
Symptoms of students with Emotional Disturbances:
Learning difficulties
Difficulties to focus or concentrate
Inability to build or maintain interpersonal relationships
Inappropriate types of behavior
Pervasive mood of unhappiness
Depression
Physical Symptoms of fears associated with personal or school problems
Emotional disturbance is an umbrella term that's used under IDEA to describe a wide range of different disorders and conditions. Anxiety disorders, conduct disorders, eating disorders, bipolar disorder, obsessive-compulsive disorder (OCD), psychiatric disorders – all are considered emotional disturbances. Yet each varies from the other in significant ways.
(Reference: education.com & specialeducationguide.com)
Students with an emotional disturbance have high dropout rates and even higher unemployment rates among those who do complete school.  These students have the greatest risk of dropping out of school as compared to students in other disability categories. (Sutherland and Wehby, 2001)
Given those facts, schools can help students with ED through;
Modifications in the Classroom
The physical environment:
Class seating arrangements should be considered and potentially harmful objects or substances should be kept away from easy access.
The student's proximity to teachers and teacher aides should also be considered, as well as where students sit with whom the child interacts negatively.
A "quiet spot" in the classroom may be useful for students with an emotional disturbance. The child may use this quiet spot to remove himself from a stressful situation to diffuse any negative emotions that could cause the situation to escalate.
    Classroom materials:
Students with an emotional disturbance may benefit from using a self-monitoring checklist that allows them to check off activities after they are completed.
Because some children with emotional disturbances face increased anxiety in the school setting, having assignments broken into shorter segments can help students from becoming overwhelmed.
A checklist can also be used to aid students in self-monitoring behavior. Different behavior expectations can be placed in a chart organized by classroom subjects, and the teacher can tally the frequency of positive behaviors displayed by the student throughout the school day.  As the child increases his or her tallies of positive behavior, teachers can provide positive reinforcement through classroom rewards.
    Instruction and evaluations:
Teachers should scaffold instruction in a way that is accessible to all students, and they should facilitate a classroom community that is a welcoming and safe space.
Students with emotional disturbances may benefit from extended time during assessments and modified test questions to help minimize anxiety. The testing environment should also be distraction-free.
Homework Strategies and Study Skills 
Talking to the child about coping with anxiety and encouraging the child to speak out about his or her needs can help the child learn more effective ways of managing his stress.
Help the child find a comfortable and quiet study space with minimal distractions to help the child increase the amount of time he or she spends being productive academically.
Breaking homework assignments into smaller pieces can help a child with emotional disturbances focus on the work he or she needs to complete rather than becoming overwhelmed by the overall workload.
Frequent breaks (every 20 minutes or as needed by the child) can also help decrease the child's anxiety about school work.
Positive reinforcement and praise during homework time can help the child increase his or her self-monitoring to stay on track with assignments.
Teachers play a vital role in helping emotionally disturbed students.  They often serve as a guiding light in every step that their students have to take. However, no two students with ED are the same.  And it makes a bit more challenging for any educators to deal with them.  So here are some helpful tips and strategies to consider on how you can best help them, support their learning and encourage their well-being.
Appropriate Interventions
The educational programs for students with a serious emotional disturbance need to include attention to:
mastering academics
developing social skills
increasing self-awareness, self-esteem, and self-control
Career education (both academic and vocational programs) is also a major part of secondary education and should be a part of every adolescent's transition plan in his or her Individualized Education Program (IEP).
Support the student's inclusion. – Emotional disturbances, by their very nature, can make it difficult for people to build or maintain satisfactory interpersonal relationships. You can support the student with an emotional disturbance in subtle but meaningful ways, especially during group work, cooperative learning activities, peer interactions, and team projects. There may also be times to let the student work alone, take a break, or have a hall pass for some quiet time apart.
Set clear behavioral rules and expectations for the entire class. – Students with emotional disturbances are frequently the targets (rather than the initiators) of other students' misbehaviors. Having a stated, explicit classroom management plan provides a solid structure by which both teacher and students can address inappropriate behavior, understand consequences, and develop a shared approach to behavior in class and toward one another. This IRIS training module may help you set up such a plan.
Recognize the student's accomplishments. – Some students benefit from working toward a tangible goal on an hourly, daily, or weekly basis. With a bonus points system, students earn points that can be saved up and cashed in for rewards at a later time. When designing a point system for students with emotional disturbance and behavioral problems, it is important to design the task and its time frame to fit the points. If the payoff is too far into the future, the student may give up on the task. Students may also be encouraged to record their progress on a chart or record sheet that enables them to see their progress toward the goal.
Encourage organization and routine. – Teach students to keep track of their assignments, grades, and targeted behaviors using reminders such as assignment sheets, daily schedules, and to-do lists. Help students manage their time by establishing routines for making transitions between lessons, getting and putting away materials, and requesting assistance. Students can have cue cards on their desk or notebook to serve as visual cues for transition steps. Provide time-management reminders, such as 10-, 5-, or 2-minute warnings before clean-up time, to establish time limitations for completing work.
Accommodation/Differentiation Strategies

Extend the amount of time that a student is given to complete a particular task.
Break down assignments into smaller ones. As students finish each mini-assignment, build in reinforcement for task completion. Wait to distribute the next assignment until students have been successful with the current one.
Reduce the number of practice items that a student must complete, once the student has demonstrated mastery.
Follow low-interest activities with high-interest activities so that students get breaks from difficult or less interesting activities from time to time.
Plan short review lessons or readiness activities to help orient the student to a particular learning task.
(Reference: elementaryemotionaldisturbance.com)
Five Ways to Deal With Students Who Are Emotionally Disturbed 
Be sensitive
Be informed
Be proactive
Be a team player
Be an advocate
(Read full article here: theeducatorsroom.com)
Teaching Students with Emotional Disturbances: 8 Tips for Teachers 
Learn more about the student's specific mental health disturbance.
Learn more about the student's strengths, too.
Remember, they're kids first.
Support the student's inclusion.
Set clear behavioral rules and expectations for the entire class.
Provide accommodations.
Join the student's IEP team and help shape his or her special education program.
Communicate with the student's parents.
(Access explanations and more info here: myschoolpsychology.com)
More Emotional Disturbances Helpful and Informative Links for Educators and Parents:
We are not affiliated with any educators or bloggers mentioned in this article.  But we admire their advocacies in guiding parents and educators help emotionally disturbed students.  We believe that with your conscious determination paired with sensible heart and viable strategies, reaching the top of the ladder of success is possible with ease for students with ED.  And for sure your "extraordinary" effort will make a huge difference in their lives that they will be so grateful for a lifetime!
"A caring teacher can be a child's salvation against all odds," (Larrivee, 2009).
Other Useful Resources: