Can you just imagine that it will be just a week before Christmas?  While our weather is getting colder each day and our surroundings are starting to fill with lights, giant trees, colorful balls, and bows – we are also getting busier preparing for this most wonderful time of the year!
As we are approaching Christmas Day, this also means another winter break! But for those busy SLPs who still need to work next week, we have collected some of Christmas themed activities you may use for the whole week.  We know that the kids tend to be a little bit distracted and might be in a vacation mode by now.  Worry no more! Because these tried and tested activities will encourage their participation and will make them appreciate the Christmas season even more!
We are not affiliated with any of these bloggers or TpT store owners, but we admire their selfless act of sharing these ideas and resources for FREE!
'Tis definitely the season to be jolly and for speech skills to shine brightly!
Christmas tree Inspired Activities
Christmas Category Freebie by thespeechsummit
"Adorable Christmas trees and stars used to target sorting and naming categories."
Christmas Tree Paper Plate Craft by speechtherapyideas
"This cute, inexpensive Christmas tree craft can be used in a variety of ways in your therapy sessions, such as ordering by size, sequencing, and following directions.  You can also use it as a reinforcement activity by rewarding students with tree pieces or by letting  them add an ornament for each turn."
Sentence Formulation: Tree Decorating by Lingual Logic
"Work on reading and sentence building skills with your students with this easy to print and go pack. Sentences range between 2 and 4 words in length."
Santa Inspired Activities
Santa Actions Cards by thespeechroomnews
"Santa is here and he's doing all kinds of things! Use these Santa action cards to practice expressive and receptive skills related to the holidays!"
Help Santa find his Bags by teachingsecondgrade
"This is a fun way for your students to practice sorting nouns and verbs."
Silly Christmas Sentences by Sylvia Garay Sanchez
"Students choose words from a parts of speech chart. They choose a noun and make sentences using words from the other columns. I also included a silly sentence recording sheet for each of the nouns and paper to write a silly story."
Christmas Stockings Inspired Activities

Christmas Stocking Craftivity by Speech Sprouts
"Christmas Describing, Vocabulary, Articulation and Phonological Awareness Craftivity. Have fun in speech therapy making these cute stockings with a pocket to slide the cards in! Your students will go home talking about their creation- perfect way to encourage home practice!
Target four goals with this one activity: Articulation, Phonological Awareness Sort, Name Vocabulary to Description, Describing.
Christmas Speech Therapy by Speech Sprouts
"I hid objects beginning with /st/ in a stocking (It's a perfect "feely" bag.) Included were a tiny stocking, a mini book (storybook), a stick, a stamp, a sticker, a star, a stop sign, a stone and a guy named Steve!"
Gingerbread Inspired Activities
The Gingerbread Man Add-on Activities by everythingspeechy
"Included in this packet
Page 3: Simple AAC Visuals
Page 4: Roll and Cover/Color Gingerbread Kids (black and white)
Page 5: Gingerbread Positional Concepts
Pages 6-7: Barrier Game: Print enough copies of page 6 for each player. Print enough of page 7 for each player to have enough tree cards during game play (you might give everyone five-ten cards). Cut the trees out, but leave page 6 intact. Position players so that they cannot see one another's game board. Have players take turns giving directions on which picture to cover with a tree (for example: cover the picture above the fox). The goal is to have everyone's game board look the same at the end of the game."
Gingerbread Man Perspective Taking Activity by thedabblingspeechie
"In this gingerbread man perspective taking activity, the focus of the lesson is to work on "thinking about others". Before the lesson or in a lesson prior to this one, you can start working on the vocabulary terms "thinking about my ideas" versus "thinking about others ideas". You can talk about situations when you need to think about other people's ideas."
Gingerbread Grammar by speechissweet
"Gingerbread Grammar: Snip and Stick is a fun and engaging way to teach grammar in the classroom or speech room! This packet is a peek into my Snip and Stick grammar activities that serve to teach, review, and reinforce a variety of grammar skills including: plurals, irregular plurals, subject verb agreement, and changing verbs to nouns! These sheets can be used in language centers, to accompany a grammar lesson, or sent home for homework!
These sheets are 100% interactive – just cut and paste! Students will love snipping and sticking as they engage in these grammar activities."
Using "Elf" movie clips in speech therapy! By thedabblingspeechie
Students with language goals can practice describing the "setting" or the "characters" of the movie using the EET tool or an attribute wheel.  I made some visuals for some of my lower kids to help with identifying expected vs. unexpected behaviors.  We also worked on "what are we thinking about Buddy?" with my visual thought bubble.
Elf on the Shelf Preposition Activity for Preschoolers by totschooling
"Get your preschoolers learning about prepositions and positional words with this fun, hands-on activity.  This FREE Elf preposition game includes 8 cards with positional words and features both boy and girl elves!"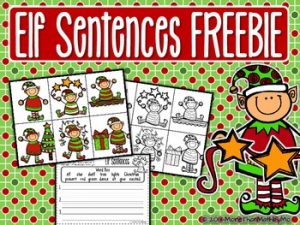 Elf Sentences by morethanmathbyMo
"Here is a simple, easy prep center for students to practice writing sentences with a Christmas – Elf theme! Download Elf Sentences FREEBIE to receive 6 picture cards (full color and b/w) and 2 different sentence recording sheets. Whether your students are just beginning to write complete sentences or they are working on adding adjectives to create elaborate sentences, then this resource is a must!"
Candy/Candy Cane Inspired Activities
Christmas WH Question Sort by speechtimefun
"Jump into the holiday spirit with this fun sorting activity that practices using WH- questions! Your kiddos must sort the candy into the correct bag based on the WH- question it answers. The candy can also be used to ask questions!"
Christmas Irregular Verbs by shortandsweetspeech
"This freebie is a fast and easy way to target irregular verbs during the holiday season! Four pages of "verb candies" provide a trail of present tense verbs. Students will provide the past tense form of the verb and follow the trail of treats to the giant bag of candy! Students can color as they go. Dot-Markers are also great for this fun freebie!"
Candy Cane Therapy Craft by speechtherapyideas
"Keep your students motivated this Christmas season with a hands-on reinforcement activity. This quick and easy candy cane craft can be used with any goal and can be enjoyed by students of all ages."
Snowman/Winter Inspired Activities
Winter Snowy Day Picture scenes: An Open-ended Reinforcer Activity by thedabblingspeechie
"Winter season is always a great language theme to use in speech therapy or in the classroom. These winter snowy day picture scenes are a great open ended activity. Use it as a behavior chart and once the student earns all of the snow balls, they can earn a game or preferred activity. Have students practice follow directions with the picture scene and people! This can also be a great visual support to create a story or oral narrative with key story elements. For young learners, you can work on naming winter vocabulary as well as winter clothes and weather during the winter!"
Winter Listen Up! Following Directions by pandaspeech
"This activity has 5 scenes:
One step directions level one (no color specification).
One step directions level two (specifies color).
Two step directions level one (no color specification).
Two-step directions level two (specifies color)
Open-ended or make your own directions.
The therapist will read prompts listed on the right side of the paper to the student (s). The student will color the picture according to the directions. No-prep and low ink!"
Following Temporal Directions: Winter Theme by slpmaterials
It's beginning to look a lot like… WINTER!  I tried to make these before/after directions less "Christmas" and more "Winter"
Snowy Speech and Language by carriesspeechcorner
"There are 5 activities included in this packet:
Build a snowman game
Snowball categories
Describing similarities
Listening for details
Winter wonderland board game"
Christmas Ornaments Inspired Activities
Ornament Yes-No Questions by speechtimefun
"Are you looking for another Christmas-themed yes/no questions resource? Look no further! This free resource includes 16 cards that you can use in a variety of ways to help your students improve at answering yes/no questions. Even better, your kiddos will have fun while doing so!"
Christmas Articulation Activity for /k/ and /g/ by ArielleGawron
"This 8-page activity for /k/ and /g/ has 8 stimulus pictures and words for each position of each sound for a total of 48 articulation pictures/cards."
Winter Vocabulary Ornament Craftivity FREE bonus lesson by thedabblingspeechie
"Need a quick and fun themed craft that targets winter vocabulary? This is a fun seasonal craftivity that is perfect for working on winter themed vocabulary."
Other Christmas Inspired Activities
Christmas: A Dab of Speech and Language by speechissweet
"This Christmas: A Dab of Speech and Language Freebie is a sample of one of my most popular series – A Dab of Speech and Language! These NO PREP activities are designed for speech and language therapy! Included Activities:
Speech: "A dab of…," "Spin and Dab," and "Dab and Say," activities for /k, g, th/.
Language: Skills addressed are compare/contrast, describing, and pronouns."
*All words are represented by pictures to support non-readers!!*
Final Consonant Deletion Minimal Pairs- Christmas Theme by theSLTscrapbook
"This Final Consonant Deletion Freebie contains 3 pages of pairs of final consonant deletion pairs of words (15 in total), to be used in your Speech and Language Therapy sessions however you desire."
Christmas Train Sorting – Preschool Speech/Language Therapy by speechgirl835
"The All Aboard! Christmas Train Sorting activity contains 8 pages (1 cover page, 1 instruction page, 6 pages for activity) to target vocabulary and categorization skills. 5 categories (food, transportation, shapes, ocean animals, and farm animals) with 8 pictures per category are provided."
Roll a Christmas Sentence by royalbaloo
"This Christmas pack is intended for kids aged 5-10.
What's in the pack?
Series of dice for noun, verb, and adverb
Mat for making sentences."
Following Directions Christmas Style by ArielleGawron
"This activity includes 30 one-step directions with modifiers. So while they are still one-step directions it includes more concepts the students have to listen to in order to correctly complete the direction. This can be tricky for some of our language impaired students or those that have difficulty attending to everything."
Christmas Idioms by KathyBabineau
"Here's a simple, easy to use freebie to learn about those funny Christmas Holiday expressions! Simply print out the colorful cards, laminate (if you wish) and use for talking about idioms and figurative language for the holiday season. Try one a day as part of your English Language Arts instruction, or address multiple expressions in small group lessons."
You can choose from any of the following work sheets: