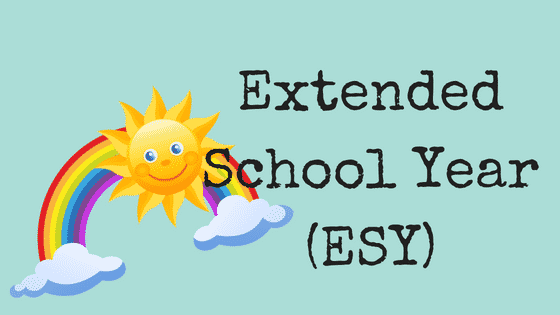 Can you also feel it? Our weather is getting warmer and the days are getting longer.  No wonder, the Summer Season is coming! For most of us, hearing "summer" makes us so excited.  You may be looking forward to a planned vacation.  Or you have these summer memories that you're hoping to happen again.  And while reading this you find yourself smiling reminiscing those special summer memories.
While it's good to talk about a vacation with this great weather, our Special Education has a different story to tell.  Because they have "ESY" or "Extended School Year."
Extended school year services are special education and related services that are provided to a child with a disability beyond the normal school year, are in accordance with a child's IEP, are provided at no cost to the parents, and are in alignment with the standards set by the state education agency (SEA). The regulations that implement the IDEA require IEP teams to determine, on an individual basis, whether ESY services are necessary to provide a FAPE to the child.  "Student participation in an ESY program is not compulsory. ESY services are not required for all students with a disability."
"Eligibility for ESY participation shall not be based on need or desire for any of the following:
1) A day care or respite care service for students with a disability;
2) A program to maximize the academic potential of a student with a disability; and
3) A summer recreation program for students with a disability."
Why is ESY necessary?
Some students with special needs are in jeopardy of not being able to retain the skills they have learned during the school year unless given additional support throughout the summer. Those students eligible for ESY will receive an individualized program to support their learning and retention of skill throughout the summer holidays.
Who is eligible for ESY?
ESY isn't guaranteed for all students who have IEPs. (And not all kids with IEPs need it.) The Individuals with Disabilities in Education Act lets each state or school district set its own rules for eligibility. So the standards vary from place to place.
In many states, kids with learning and attention issues are unlikely to get ESY services. But it's important to check with your state's department of education. It can tell you what the standards are where you live.
IDEA does say that schools can't limit ESY services to kids with certain issues. For example, a school can't decide to not give services to kids with dysgraphia. It also can't give services only to kids with autism spectrum disorder, for instance.
How can I determine if a child qualifies?
The school, through the IEP team, will decide if the child will qualify for ESY Services. The decision will be based on a variety of factors which include:
the child's rate of progress
the degree of impairment
the child's behavioral and/or physical problems
availability of resources
the vocational and transitional needs of the child
the child's ability to interact with non-disabled children
and whether the service requested is 'extraordinary' rather than usual in consideration of the child's condition.
It is important to remember, the key to qualifying is the child's regression during school breaks, these should be well documented and records or any supporting data should be on hand for the team meeting.
The school team will also take into consideration the child's previous history, in other words, did having summer holidays mean re-teaching skills again upon school startup? The school team will look at previous regression. It is important to note that most students don't retain all skills taught, hence a spiraling curriculum. The degree of regression must be relatively extreme to qualify for ESY Services.
Sources:
Greer Gurland Esq., a Harvard Law School graduate and a mother of children with special needs shared in friendshipcircle.org the "Top 5 Secrets About Extended School Year."
Secret #1: ESY is not only for children who are failing or who didn't meet their stated IEP goals.
Secret #2: Recoupment/regression analysis is not the only way to qualify for ESY.
Secret #3: ESY programs are not one-size-fits-all.
Secret #4: ESY need not be in school.
Secret #5: Parents need to pave the way by collecting data year-round.
Find the rest of the article here: https://www.friendshipcircle.org/blog/2017/05/02/top-five-secrets-about-extended-school-year-esy/
If you're a parent these are for you!
We are not affiliated with any organization or bloggers mentioned in this article.  But we admire their efforts in educating us about Extended School Year.  We all have summer stories to tell, some are not so good but a lot are worth reminiscing and sharing.  And our SpEd Department is the perfect example of those inspiring stories of changing lives that will inevitably create an impact for many years to come! How 'bout you, what's your summer story?